From Marcel Proust to Patrick Süsskind, Christian Dior to Coco Chanel, some of the world's most formidable creative minds have fallen prey to the power of scent, becoming obsessed with its unparalleled ability to convey the essence of a memory, a lifestyle, or an idea. The latest to be drawn in by the allure of fragrance are the trio being London label Kiko Kostadinov — Kiko and twin sisters Laura and Deanna Fanning — who are releasing their debut perfume today. 
With Kiko heading up the label's menswear division, and Laura & Deanna leading on the womenswear front, the three designers have spent five years developing a sartorial language that fuses the natural and the synthetic, the classic and the weird. KK.001, a non-gendered solid perfume produced in collaboration with Tokyo-based perfumer retaW that comes in an easily portable tube, offers an olfactory foil to their fashion practice. It boasts notes of cedarwood, sandalwood, leather, vetiver and (to this writer's nose, at least) asphalt, all mingling together to create a fragrance that gives a similar sense of abstract elegance that their clothes convey; an air of musky, industrially-tinged chic that faintly calls Comme des Garçons legendary 'anti perfumes' to mind.
Here, Kiko, Laura and Deanna give us the exclusive lowdown on the making of the fragrance, and the memories it evokes for them.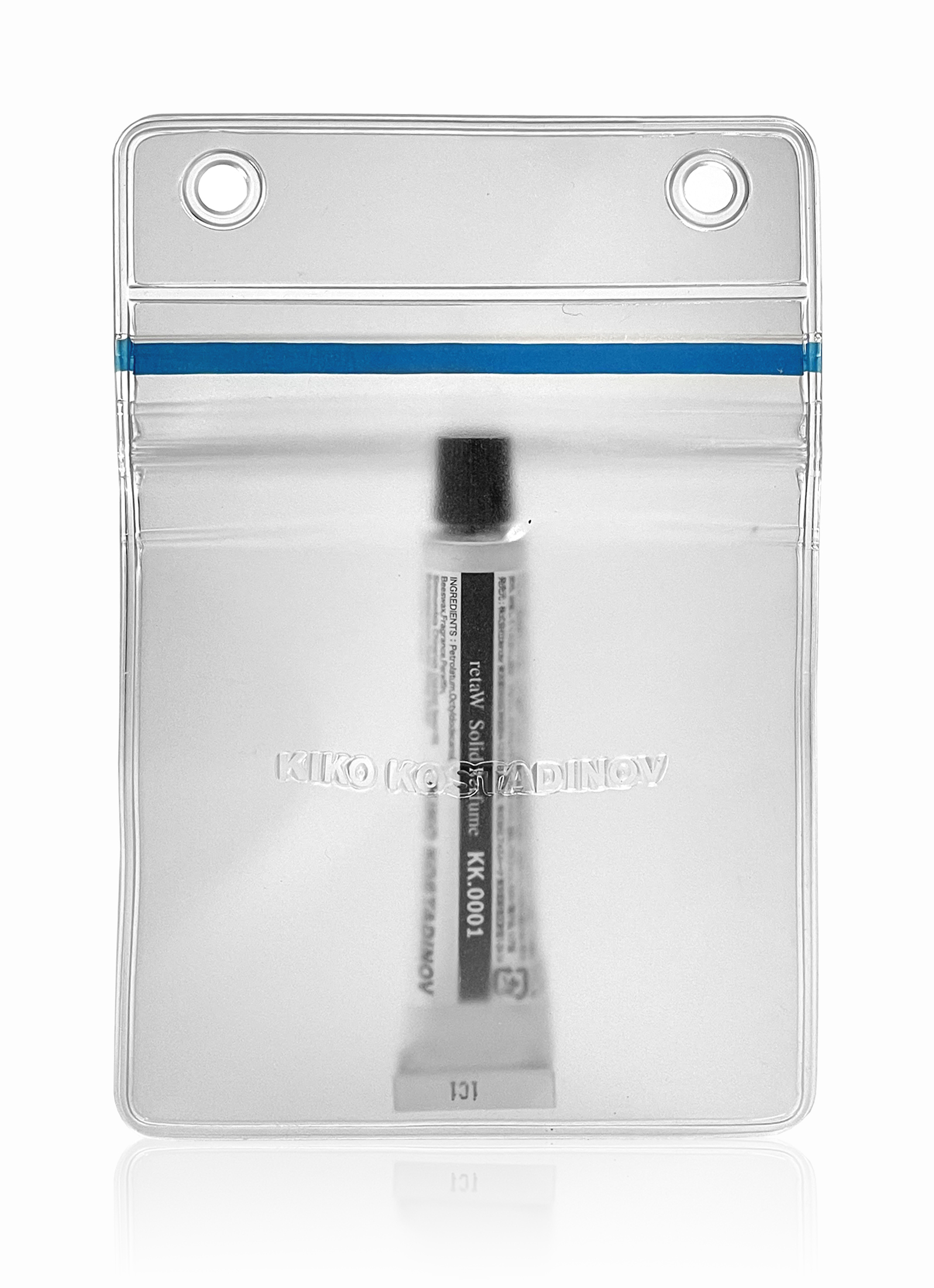 How did the idea to do a fragrance first come about? And why did now feel like the right time to release one?
Kiko Kostadinov: We have been actively trying to expand the brand horizons by working with different creatives, creating seasonal stories, events and spaces. In fashion, fragrance is often linked to the idea of financial stability, or, in a more negative way, it represents the idea of a money machine that pays for a brand's creative freedom while promoting its image and beauty aspect. For us, this was more of an experiment in how to do a perfume that felt both interesting and sincere, without handing over your brand name to a perfumer. 
Your work often departs from very specific references — books, films, artworks, theories, objects… Tell us about some of the references you had in mind while developing this scent?
Kiko: The project was fully developed during the pandemic, so this time, it was more a matter of coming to retaW with different scents and asking them for possible combinations. At its core, though, it was about mixing natural and synthetic ideas.
Scents can be so evocative — their ability to awaken memories of specific times and places is unparalleled. What contexts or memories does this fragrance evoke for you?
Laura Fanning: Yes it certainly can, and recreating a scent can feel nostalgic yet aspirational. The overarching note for us is leather — as a fashion studio, we could all relate to reimagining the feeling of opening a box with newly crafted leather shoes or putting on a leather jacket for the first time. We wanted to carry that scent and bring a freshness to its temporality.
Deanna Fanning: I find the sensory experience of fragrance fascinating. To be able to inspire a feeling or world through scent alone leaves the experience very much subject to interpretation. The notes of leather are a bit nostalgic and comforting to me, it reminds me of a hot summer day with the sun blaring down onto the leather bench seats of my grandparent's car out in the paddocks — and takes me back to that memory more than a photo could, perhaps. I can immediately feel the heat and sense the dry grass and rustling eucalyptus trees.
You've created a solid perfume. Why is that? 
Kiko: Developing a new perfume, or any product in this area of manufacturing, is so different to making ready-to-wear. Collaborating with retaW, we had to work their pre-existing products and the solid perfume felt very intriguing — there's a real practicality to it.
While the menswear and womenswear sides of Kiko Kostadinov often overlap — there are a good few people out there who wear both — this scent is explicitly genderless, bridging the two worlds in a way. How does the scent complement the fashion that the three of you create?
Laura & Deanna: The meeting of the natural and the synthetic in this fragrance is very much relatable to our fashion ideals — in this sense, we feel that there is a strong connection that complements our design, and we really like that the scent denotes characteristics that are not mutually exclusive or tied to notions of gender.
How did you find the process of working on a scent? How did it differ from your approach to designing? 
Kiko: It was actually really straightforward. There were fewer visuals involved, and it was less physical. It was really based on words, creating atmospheres and landscapes, and going from there.
The fragrance's name is KK.001, which could be taken to imply that it's part of a series. Is that the case?
Kiko: The 000 coding has been a big part of our brand DNA since the start, even across external projects like our work with Mackintosh. It felt appropriate to have similar coding for the fragrance, rather than give it a name — having a specific name can often create expectations for customers based on their life experiences, and how they relate to the word used.
Head here to pick up a tube of KK.001, and follow i-D on Instagram and TikTok for more fashion and fragrance news.