As the annual Royal Ascot horse racing event prepares to take place in Britain, Newsweek looks at the top 10 royal fashion moments from years past.
Queen Elizabeth II (1976)
Queen Elizabeth II is known today for her conservative wardrobe in a rainbow color palette. But over the course of her seven-decade reign, she has experimented with different styles along the way.
In 1976, the 50-year-old queen wore one of her bolder outfit choices: an elegant white coat with a bright band of orange around the collar, cuffs, pocket opening, and center front closure.
The maker of the coat is not known. But at this point in time the queen's trusted designer, Sir Norman Hartnell, had retired and her wardrobe was being made by Sir Hardy Amies and also one of Hartnell's proteges, Ian Thomas.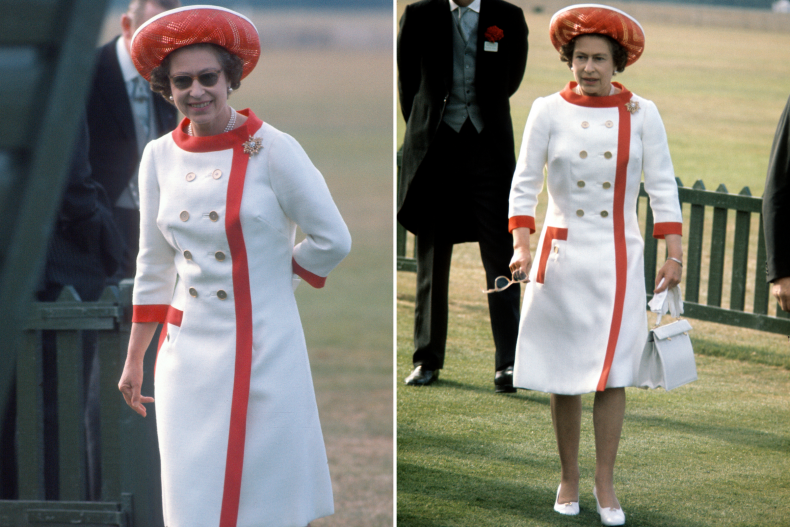 Princess Diana (1986)
Princess Diana's fashion was sure to draw attention wherever she was, and Royal Ascot provided the perfect opportunity to see the princess at her sartorial best.
For the 1986 event, Diana wore an all-white ensemble comprising a skirt and jacket made from pleated silk. The jacket was typically 1980s in design with padded shoulders and exaggerated peplum to make the waist appear smaller.
The look was designed by couturier Victor Edelstien, who made some of Diana's most iconic dresses—including the velvet evening gown worn to the White House in 1985 where she danced with John Travolta.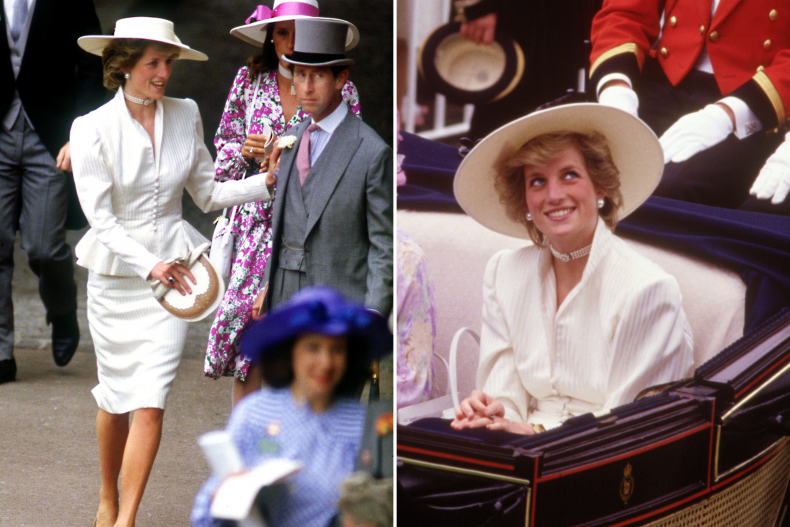 Princess Diana (1988)
As Diana moved from the excessive glamour of the 1980s into the streamlined aesthetic of the 1990s, she began to experiment with new styles. One of these was an embracing of men's tailoring for her day and event wear in the form of coat dresses and statement jackets. During the 1988 Royal Ascot event, Diana wore a dove gray coat and white dress ensemble designed by Catherine Walker.
Walker wrote in her autobiography: "This suit was designed to emulate the traditional cutaway tailcoat that was very commonly worn by gentlemen during the Regency period of George III. It was a challenge to execute sharp men's tailoring with fabrics such as this fine silk douppion, using a dress block to give the coat a more curvaceous line."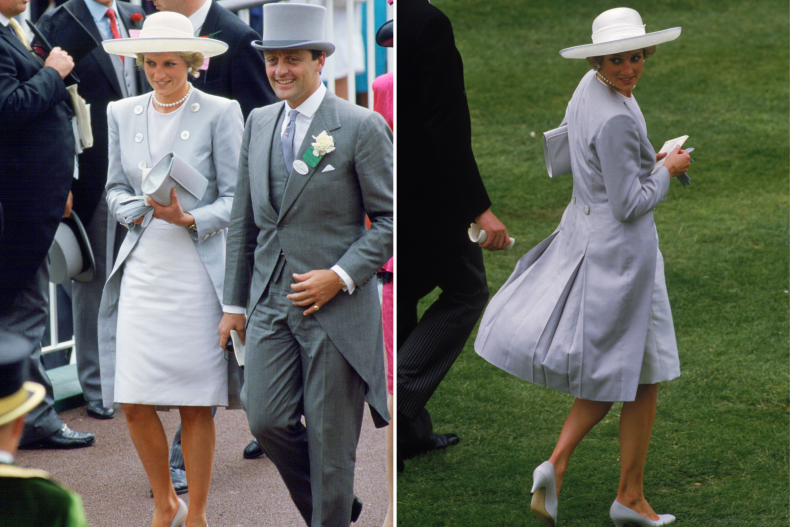 Princess Diana (1990)
The year 1990 saw Diana wear another Walker design for Royal Ascot, this time in a daring color blocked style of purple and red.
The outfit had been designed the year previously for the princess' visit to Hong Kong with Prince Charles. Walker, in collaboration with Diana, selected the bold color palette to complement the rich traditional silks used in Hong Kong. The pagoda-shaped hat that went with the outfit was made by the princess' favorite milliner, Philip Somerville.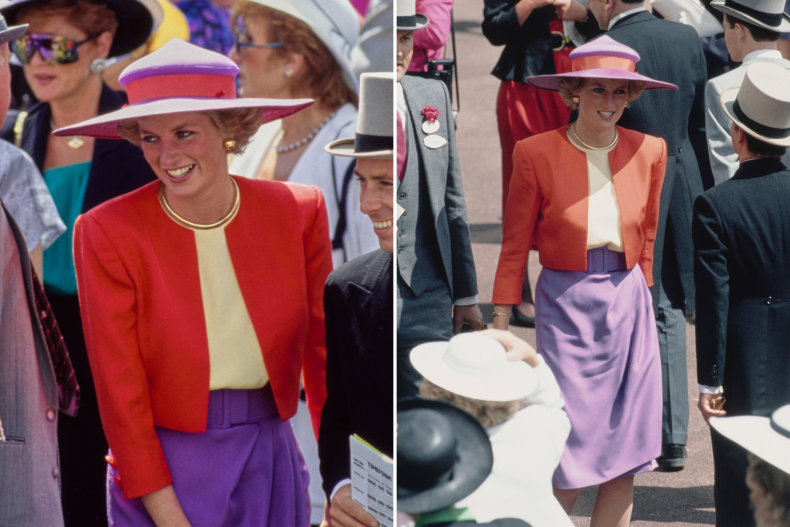 Kate Middleton (2016)
For her first visit to Royal Ascot as a member of the royal family, Kate Middleton wore an elegant white lace dress by Italian designers Dolce & Gabbana. The royal paired the dress with nude suede heels and a statement hat by Jane Taylor millinery.
When approached by the Daily Telegraph after images from the event began to circulate online, Domenico Dolce and Stefano Gabbana said: "We are big fan of the Duchess Kate. To us it's a great honor to see her wearing our clothes."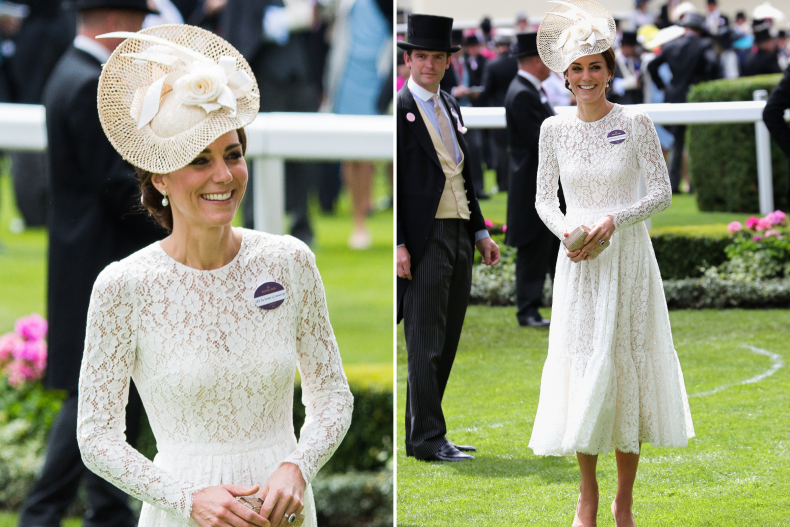 Camilla, Duchess of Cornwall (2017)
Camilla, Duchess of Cornwall, has attended Royal Ascot for many years. Since marrying Prince Charles in 2005, she has taken part in the annual carriage procession with the queen. For the second day of the 2017 Royal Ascot event, Camilla wore an elegant blue outfit of layered chiffon with pleated detailing.
The duchess accompanied her dress with a hat from milliner Philip Treacy, a favorite of Kate Middleton's.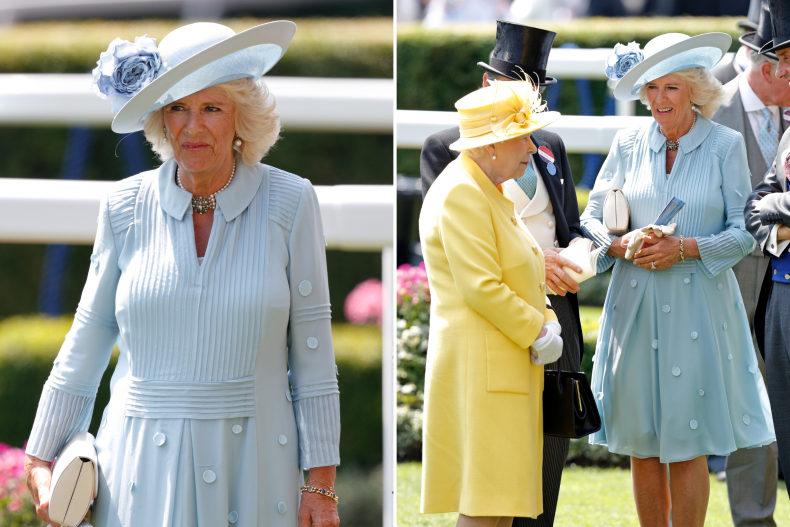 Meghan Markle (2018)
Meghan Markle has only attended Royal Ascot once so far since marrying into the royal family, and this was in the weeks following her May 2018 wedding.
For the event, Meghan wore an elegant white silk crepe shirt dress with delicate white embroidery paired with a contrasting black belt made by Givenchy, the designers of her wedding dress.
With this look, Meghan paired a sculptural hat by milliner Philip Treacy.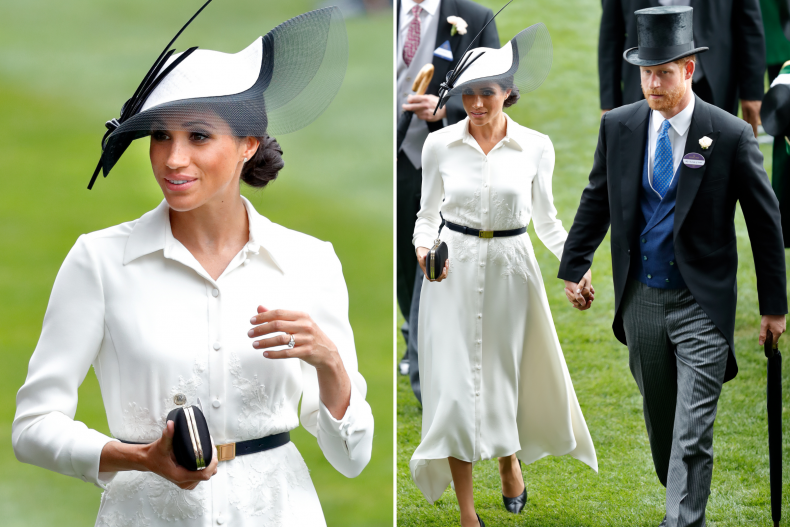 Sophie, Countess of Wessex (2019)
Sophie, Countess of Wessex, is married to Prince Edward, Queen Elizabeth II's youngest son, and has been widely celebrated as one of the most fashion-forward members of the royal family.
For Royal Ascot in 2019, the countess wore a striking outfit designed by Emilia Wickstead, a trusted fashion source for both Kate Middleton and Meghan Markle.
The floral patterned dress against a pale pink ground was paired with a wide brimmed hat of the same material, which made for a bold patterned statement against a sea of block colors in the royal enclosure.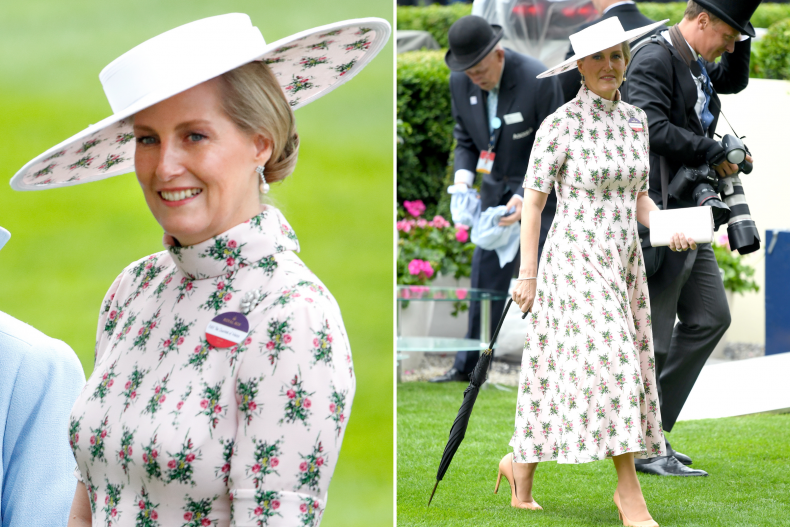 Kate Middleton (2019)
For Royal Ascot in 2019, Kate Middleton wore a spectacular cool blue dress of layered tulle with velvet applique from Lebanese designer Elie Saab. The duchess paired her look with silver accessories and a dish style hat with floral embellishments from Philip Treacy.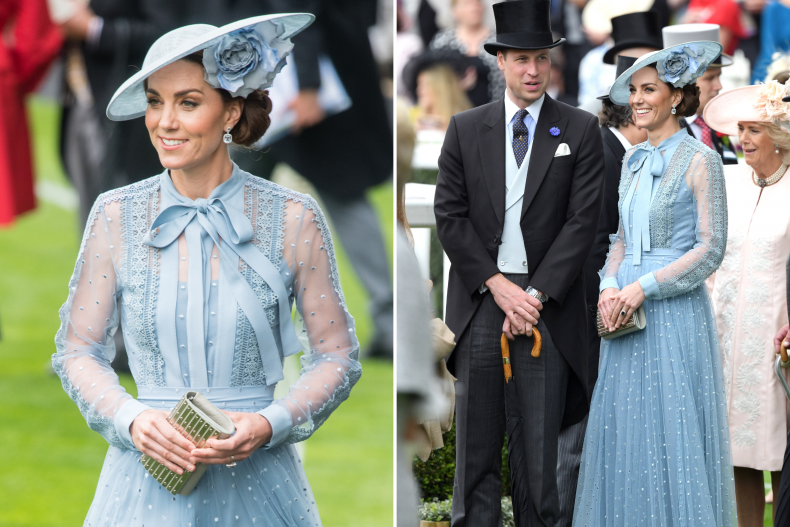 Queen Elizabeth II (2021)
For the first Royal Ascot event since the COVID-19 pandemic, it was thought that Queen Elizabeth II would not make her traditional public appearance and instead opt to watch from Windsor Castle on television.
Despite missing the first day of the event for the only the second time in her seven-decade reign, the queen was loudly cheered as she appeared at the course for day two of the racing.
The queen wore a chic ice blue coat designed by her closest aide Angela Kelly with a statement matching hat.