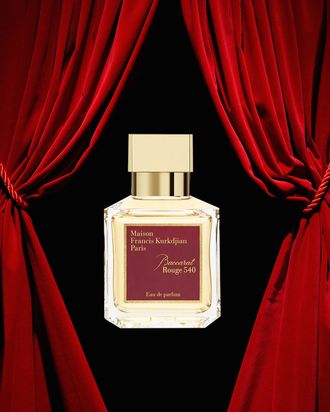 Photo-Illustration: by The Cut; Photos: Retailer, Getty Images
The smell of Baccarat Rouge 540 has been described as "money" and "swimming in Scrooge McDuck's vault" by people on TikTok. Christina Najjar, known on TikTok (as @Tinx) for creating "rich-mom starter packs" — a list of items favored by mothers in fancy subcultures — calls it "rich mom–approved." Erica Page Adams, known on TikTok as @letstalkperfume, said, "POV: You ask the hot girl what perfume she is wearing," flashing to a photo of it. Rihanna once even complimented a journalist wearing the scent at a Savage X Fenty show. "You smell good," said the star, who reportedly smells like heaven herself. It has also inspired a lot of alleged dupes, such as Ariana Grande's Cloud and Zara's Red Temptation.
To find where its reputation as the "most complimented perfume" first began, I went to Fifth Avenue to the Baccarat Hotel, where rooms go for $1,500 a night but smelling the Baccarat Rouge 540–scented black chrome lobby is free. When I walked in, it smelled like a mix of smoke and burnt candy. A hotel making a signature scent is not new. The most famous example is the Gramercy Park Hotel, which helped develop the wildly popular Santal 33. "Santal 33 walked so Baccarat Rouge could run," said Sable Yong, co-founder of the perfume podcast Smell Ya Later.
When the hotel opened in 2015, the scent was a limited-edition launch in 250 numbered crystal bottles. It was immediately so well liked that perfumer Francis Kurkdjian — also behind perfumes like Le Male for Jean Paul Gaultier and Narciso Rodriguez — included it in his permanent collection. "I knew it was good because whenever I wore it, I got so many positive comments," he said. Fragrantica, a perfume-review site that charts the interest of a perfume with its members over time, shows a continual upward wave in popularity that becomes more ski slope–like after 2020, when the pandemic (and the TikTok boom) started.
Kurkdjian described it as an "overdose of everything." For perfumes, which usually have more than 20 ingredients, this list is surprisingly short. "Just seven ingredients and three accords," says Kurkdjian. Unlike popular perfumes such as Dior J'Adore and Chanel No. 5, which are commonly made of a mix of synthetic and natural ingredients, this one is made up of all synthetics. This means that although the perfume smells a bit like burnt jam, Kurkdjian didn't take actual jam and distill it in a lab to create the note. Unlike the origin story of other fancy perfumes, which often include real-life procedures like harvesting flower blooms under the cover of darkness; jasmine only blooms at night — all of the ingredients were created using droppers and beakers in a lab. Also unlike other big perfumes, such as J.Lo Glow and Gucci Bloom, Baccarat Rouge 540 isn't connected with a celebrity or a fashion house.
So what makes this perfume unique? For one, the composition. Two of the ingredients are polarizing and can be seen as direct opposites of the perfume taste spectrum. Veltol, also known as ethyl maltol, is known for being sugary sweet, most popularly smelled in Mugler's 2000 hit, Angel. Kurkdjian likens it to smelling like "candied strawberries." On the other side is the savory, salty hit of Ambroxan, a synthetic version of ambergris, a long-prized and expensive ingredient in perfumery due to its brine-y-like quality, made from the vomit of whales (Kurkdjian more delicately describes it on his website as being made from "whale's natural excrement"). It can be off-putting to some people (some reviews on Fragrantica describe it as smelling like old Band-Aids or tinned pineapple) and completely ambrosial to others (like cotton candy and Christmas trees).
"I think part of its allure is that it doesn't really fit into a box," says Najjar. Hope Dworaczyk Smith, founder of the skin-care line Mutha, agrees: "It's unidentifiable." So much so that when Yong smelled it for the first time, she was surprised. "It wasn't overly floral or woody. It has an interesting, fluid vibe to it that isn't overly feminine." Smith discovered it by chance on a ride with a friend to an event. "Finding out what the scent was consumed me the entire ride from downtown to Carnegie Hall."
"Baccarat Rouge 540 has a complex trail with several facets," Kurkdjian says. "Everyone feels attracted to one aspect more than the others." In 2016, Kurkdjian said this perfume might be one of his masterpieces. Today, he says, "I don't talk like that about my work." But "the way Baccarat Rouge 540 smells and how people respond to it is very unique. It happens a few times in a perfumer's lifetime."